YOGA PROGRAM
Aerial Yoga is an anti-gravity exercise that utilizes a hammock or a swing to allow students to perform posture they may not ordinarily be able to attempt on a yoga mat.
The program involves performing a series of exercises inspired by yoga, Pilates, calisthenics and aerial acrobatics to achieve a total-body workout and is developed for beginners through all levels of experience.
CALORIES BURNED PER 50-MIN SESSION
350-500
BENEFITS AT A GLANCE
Improve balance & flexibility, ease breathing
Relieve stress, improve mood and focus
Total body workout, stretching and moving almost all body parts
Reversing gravity and decompression of spine
WORKOUT TYPE
Stretching

Strengthening

Circulation / Lymphatic movement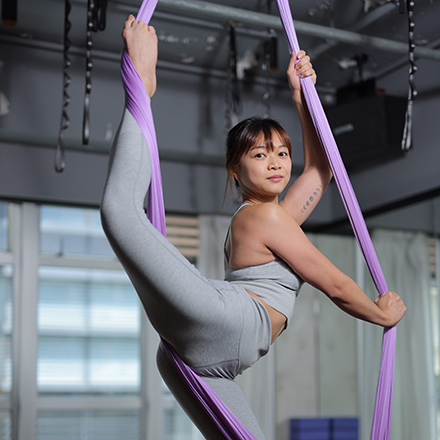 YOGA INSTRUCTOR
Hailey Li
I'm a YOGA Instructor who has honed my craft for years! Looking forward to seeing you in class!